Properly Fit N95 Respirators: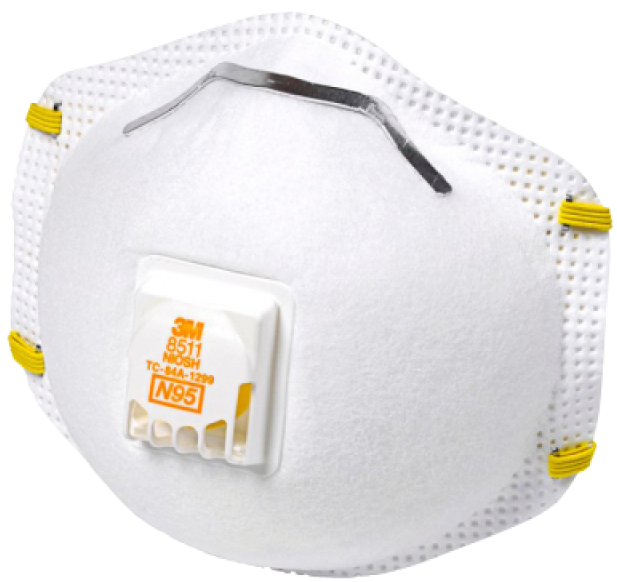 Understanding Respirator Mask Programs
1. Respirator Medical Questionnaire
A Respirator Medical Questionnaire is a standardized form that must be completed by a licensed health care professional prior to a fit test (step 2) being conducted. The questionnaire can be completed online, and the Occupational Health Nurse will contact the employee if there are any concerns. The questionnaire is required only once for the duration of the employee's employment with the company unless there is a change in the employee's health history. To properly perform the respirator medical questionnaire, the health care professional should have a copy of the employer's Respirator Protection Policy.
2. Respirator Mask Fit-Testing*
The second step is to have a mask fit tested. The fit test is required annually is specific to the mask that the employee will be wearing. The employee should be fit tested with any additional PPE that they will wear simultaneously such as goggles or hearing protection.
There are two types of fit testing:
Quantitative – uses an instrument called a PortaCount to provide a numeral value to assure a proper fitment. (This type of testing requires a hole to be punched in an N95 mask.)
Qualitative – is a pass/fail test that relies upon the employees' sense of taste or smell to determine fitment. (This type of testing allows for reuse of the mask.)
* – KN95's are not the same product as an N95 respirator and do not require respirator fit testing due to their design.
Both Steps Are Critical In Making Sure Your Respirators Are Providing Proper Protection
Do You Need a Source for N95 Masks?

We Can Help
Helpful Examples on How To Best Conduct N95 Respirator Fit-Testing
These downloads will help you to conduct accurate/reliable fit-testing for all N95 Masks in your facility.
Contact us today and we will gladly walk you through all of the ins-and-outs of accurate/reliable fit-testing for N95 Masks.
Prevention, Intervention, Management
Occupational Health Solutions (OHS) is a small company with big resources. When you partner with us, our core values ensure you will always receive personalized services tailored to mee that needs of your business, and have access to highly-qualified, experienced staff when you need it.
We are a business-to-business enterprise with a focus on Occupational Health and Management. Our innovative and comprehensive appraoch allows us to quickly and efficiently respond to the needs of the modern workplace.
OHS Is Your Single Source for All Things Occupational Health
24 / 7 Occupational Health Nurse
Injury/Illness Management
Properly-Fit N95 Respirators Are The Critical Key to Compliance, Reopening, and Staying Open
Let us help you ensure the safety of your workers while also helping your organization not only reopen but be able to stay open safely and reliably.
We'd love to help you with your COVID-19 Respirator program. Please get in touch today and find out how we can help you protect the health/safety of your staff and customers.
OHS Is Your Single Source for All Things Occupational Health Occupational Health Solutions – Spokane, WA
OHS offers a variety of occupational health services to employers in the Northwest with the flexibility and sophistication of a large firm yet with the personalized, quality service provided by a small company.